ATHEXGroup Press Releases


The Athens Stock Exchange Named 2015 Outstanding Data Provider by FISD
Athens, 4th

December 2015
The Athens Stock Exchange Named 2015 Outstanding Data Provider by FISD
Annual Award Recognizes Strong Customer Service and Communication
WASHINGTON (Dec. 3, 2015) - FISD, The Financial Information Services Association of SIIA, presented the 2015 Outstanding Data Provider Award to The Athens Stock Exchange. The award was presented at the FISD General Meeting in London on December 2.

This award was created by the FISD Service Level and Communications Working Group to recognize the exchange or data provider that most closely adheres to the Working Group's Best Practice Recommendations. These recommendations are guidelines for communication and notification sent by exchanges and information providers to their customers and downstream distribution partners for events such as system upgrades, administrative and policy changes, new product introductions, and unplanned interruptions.
"We feel honored to be recognized among the world-class exchanges and data providers," said Pavlos Vratits, Head of Data Feed Services of The Athens Stock Exchange. "We are grateful for such recognition by the leading industry experts and the members of FISD. This prestigious award is a reflection of our commitment to our clients, partners and excellent service quality."
Tom Davin, Managing Director of FISD, said "The Athens Stock Exchange is clearly deserving of this acknowledgement. The award recognizes the importance that clients and distributors place on clear and timely communications from their information providers. This recognition highlights the value of the Service Level and Communications Working Group's recommendations as a reference for exchanges and information providers throughout the market data distribution chain."

About FISD

FISD (the Financial Information Services Association of SIIA) provides a neutral business forum for exchanges, market data vendors, specialist data providers, brokerage firms, investment managers and banks to address and resolve business and technical issues related to the distribution, management, administration and use of market data. Members use this forum to exchange ideas, build business relationships and improve the business climate associated with the worldwide flow of financial information. For more information, visit www.fisd.net.

About Athens Stock Exchange
Hellenic Exchanges - Athens Stock Exchange was founded in 1876 and is the parent of the Group of companies that support the operation of the Greek capital market. The parent company and its fully owned subsidiaries, ATHEXClear and ATHEX CSD, operate the organized cash and derivatives markets, carry out trade clearing, settlement and registration of securities, provide comprehensive IT solutions to the Greek capital market, and promote the development of capital markets culture in Greece. Reliability in operation, transparency, trust in relationships, corporate governance know how and harmonization with international standards are deemed by ATHEX as prerequisites within the competitive Greek capital market.
Web site: www.fisd.net.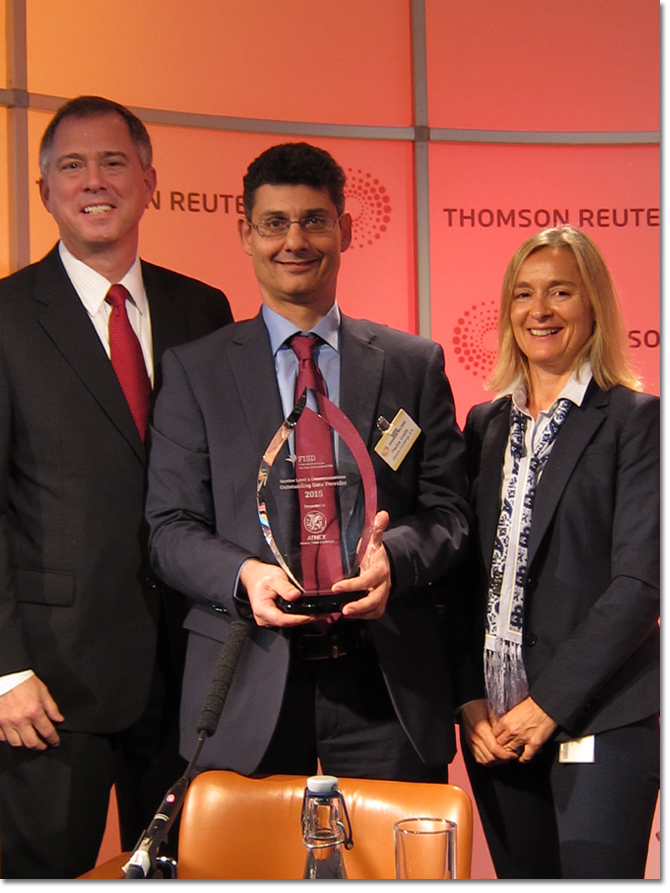 From the left: Tom Davin, FISD Senior Vice President & Managing Director, Pavlos Vratits, Head of Data Feed Servics of The Athens Stock Exchange, Claire Pons, Region Manager, Data Acquisitions (Europe) της ThomsonReuters.
| | | |
| --- | --- | --- |
| | | |
| | | |
| Search mechanism providing information on Press Releases by ATHENS EXCHANGE GROUP | Search mechanism providing information on the Press Releases of the ATHEX GROUP Committees | Search mechanism providing information on ATHEX GROUP Announcements |
Search

Search
Toolbox
New Listings Prospectuses
---
Calendar

FinancialCalendarPortlet